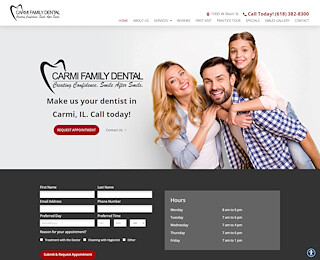 Finding a new dentist in 62821 doesn't have to be a chore – call Carmi Family Dental for exceptional dental care for every member of your family. We're the perfect match for your family's needs, whether you're new to the area, switching dentists, or just exploring options for treatment. Come in to meet our team during a free practice tour or schedule a new patient consultation to find out how we can fulfill your smile goals. Our passion for high-quality dentistry includes providing the same high level of care that we demand for our own families.
Should I Switch Dentists?
If your family is not completely satisfied with the level of care received by your current dentist, make it a priority to find a new one. You and your family deserve to be treated the way you want to be treated. Some questions to ask before spending time with a dental care provider who is not meeting your needs:
Are dental visits painful?
Is treatment affordable?
Do my children look forward to checkups?
Are there too many out-of-office referrals?
Is my dentist in a convenient location?
Switching dentists is not an ethical question – it has more to do with whether you're experiencing value as a patient and feeling comfortable when it's time to see your dentist. Consider Carmi Family Dental when searching for a new dentist in 62821 – you'll be glad you took a moment to get to know us better.
What Kind of Dentist is Right For My Family?
If you have small children at home, teens, or seniors you're caring for, a general dentist is a good choice. Be selective when comparing dentists, since many general dentists are merely primary care providers while others are skilled in numerous advanced services and treatments. At Carmi Family Dental, we meet the needs of the community with a broad range of services, procedures, treatments, and new technology practices, including the following:
Routine checkups & thorough cleanings
Preventive services, like sealants, fluoride, patient instruction, and mouth guards
Restorative dentistry, including CEREC same-day crowns
Hard & soft tissue laser
CAD/CAM Milling
Aesthetic fillings, crowns, and bridgework
Gum sculpting
Dentures
All-On-4 full arch implant-supported dentures
Root canal treatment
Invisalign®, Invisalign Teen® & orthodontics
Sleep apnea treatment
And more…
There's no need to see multiple dentists when we can offer more to your family under one roof at Carmi Family Dental. Come in for a free practice tour, get to know us, and let our team assess your family's dental care needs. We'll keep your smiling between visits.
Dentist 62821
Carmi Family Dental
6183828300
1000 W Main St, Carmi, IL 62821-2402
View Larger Map